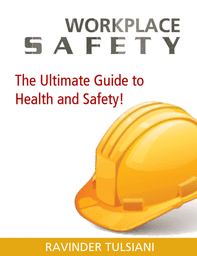 Rather than taking your chances in the workplace every day, you can learn all of the important tips necessary for making your office or jobsite a healthier, safer place for yourself and for everyone else who works there!

You, your coworkers and other employees, do not need to waste valuable work time from staying home to recover from on-the-job accidents, or contracting illnesses from other people! While these kinds of problems do occur on occasion, both the risk and the impact can be significantly minimized. All you really need to know is how to reduce your risks!

Fortunately, reducing your risk of on-the-job accidents and illness is not difficult at all! All it takes is learning about some important strategies-- and then begin putting them into practice every day! None of these concepts are difficult to learn! Each one can easily be made a part of your everyday work life! It is also very easy to let others in on these ideas, so everyone in your company can benefit!

Your workplace can quickly go from being filled with stress, anxiety, and risks, to being a great place for you to spend each day! These tips can be learned and put into practice with very little time and effort! When you begin to see how quickly your office or jobsite starts to change for the better, you will wonder why these tips were not available sooner!

Learning all you need to know about health and safety in the workplace has never been easier...